Menu
DONATIONS
Imagine for a moment what your world would be like without the beauty and song of wild birds. Sad isn't it? If you care about the preservation of Alaska's wild birds and their habitat, please show your support by making a donation today. The annual operating expense of Bird TLC is at an all time high. The costs of medical care, utilities and supplies are constantly rising and so is the amount of birds needing Bird TLC.
Check out our Adopt-A-Bird Program!
Contact the Bird TLC office for more information at 907-562-4852 or you're more than welcome to donate through PayPal by using the link below.
Or send your check to:
Bird Treatment and Learning Center
7800 King St.
Anchorage, Alaska 99518
Bird TLC Wish List

Bird TLC can always use the following items:
- Gift Cards (Lowe's, Home Depot, Fred Meyer, Costco, Pet Supply Stores, etc.
- Unprocessed Salmon or Red Meat
- Bleach
- Simple Green
- Laundry Soap & Dish Soap
- Garbage Bags
- Ziploc Bags
- Paper Towels & Toilet Paper
- Army Blankets
- Mirrors (All sizes)
- Clean, Used Towels
- Rubber / Latex Gloves
- Garden Hoses & Hose Nozzles
- Plywood
Contact the Bird TLC office for drop off directions - 907.562.4852.

An immature bald eagle is returned to the wild.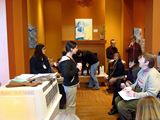 Host a fund raising event.