---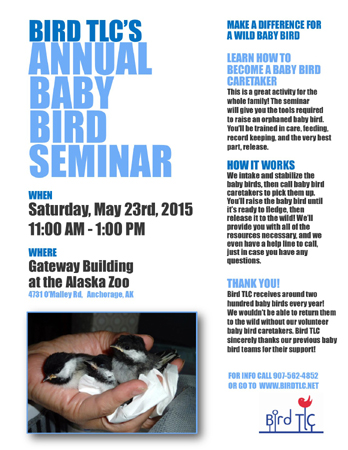 ---
Found an injured bird?
Bird TLC rehabilitates all wild birds, from the largest bald eagle to the smallest common redpoll. If you come across an injured or sick bird, you can call us at 907-562-4852, or bring the bird in to our clinic at 7800 King Street in Anchorage, AK. Thank you for caring about Alaska's wild birds!
---
2015 Bird TLC Calendars
Bird TLC's 2015 calendar is available, and looks great!

You can also browse our catalog and create your own calendar. Choose from photos of Bird TLC's education birds, birds during rehabilitation, the beautiful wild birds of Alaska, and some of our favorites, eagle release photos.

Click here to order your 2015 calendar!


---
* 2015 presentation rate change
As of January 1st, 2015, our eagle presentation rate has changed from $120.00 to $150.00 per hour, and our non-eagle presentation rate has changed from $75.00 to $85.00 per hour. Feel free to contact us with any questions, thanks!