Menu
Volunteer Opportunities

Clinic Volunteers

Volunteers start with Sanitation and Disease Control modules and can progress to Diet and Nutrition, Handling and Restraint and Lead Volunteer responsibilities. Due to the training involved, clinic volunteers need to commit to at least one four hour shift a week. Special time commitments, such as every day in the summer, can be granted by the Rehabilitation Coordinator.

Baby Bird Mom or Dad

This is something for the entire family. Take a one day course on how to care for baby birds and put your name on the list. As orphaned babies arrive we'll call foster parents. Foster parents feed and care for the babies until they are ready to fledge. Caution! This job can involve night time feeding and constant care. Baby bird responsibilities last from 2-6 weeks.

Education Presenters

Join Bird TLC's outreach crew. You will be trained to handle a live bird on the fist and answer questions about Bird TLC as well as wild birds in Alaska. You can also learn how to present with artifacts and pictures instead of a live bird. Educators make a minimum commitment of twelve presentations a year. We make presentations at schools, special events and several regular locations in Anchorage and throughout Alaska.

Volunteer Requirements

You must be 18 years of age or older to volunteer at the Bird TLC Clinic, or 16 years of age with a parent or guardian present.

You must have a current tetanus vaccination.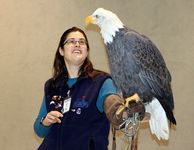 Lisa with Petra
Our education volunteers provide hundreds of live wild bird presentations around the state every year.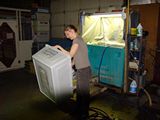 Volunteers do it all!
From cleaning kennels to giving medical attention to our wild birds, our clinic volunteers are here 7 days a week, 365 days a year.